Ohrna means 'veil' in Bengali, a language of India's east. For a woman, an ohrna adorns her attire, provides her the grace and comfort she seeks and shields her from the harshness of the sun. 
The women of India's villages are our biggest inspiration and the heart of everything we do. Each of Ohrna's unique products is made by rural women from different parts of the country using the material, training and skills we provide, giving them a source of livelihood, financial independence and self-respect.
Ohrna was born out of a desire to preserve some of the craft traditions of Bengal, a land known for its richness in arts, poetry and culture. Our goal is to showcase these traditions beyond India's borders.

Sustainability is another key pillar of our business. Our products, from backpacks to laptop sleeves to plant holders, are primarily made using natural fibers like jute and cotton. Even our packaging is made from up-cycled saris — the traditional garment worn by India's women.

Ohrna's guiding principle is design as a tool for inclusion and global outreach.
We are passionate about innovating contemporary, everyday products by applying traditional arts and crafts to them. We aim to generate employment among home based, rural women, who find it difficult to get work without leaving their village. 
All our profits go to our artisans.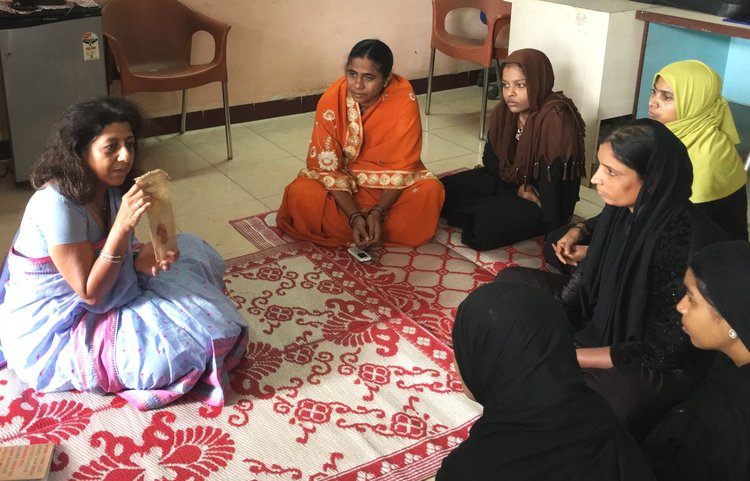 ---
NYNOW
Ohrna was selected for it's social impact work by USA based NY NOW's prestigious Market Incubator program, which helps provide a platform to international artisan enterprises in a curated pavilion of innovative artisan brands at NY NOW's Artisan Resource section.
We first launched our line of products at NYNOW's summer show in 2018, where our planter holders were shortlisted for the Best New Product award while in 2019 our silk scarves were shortlisted.
New York, NY – Aug 2018, Feb 2019, Feb 2020
BHIMTHADI JATRA
Ohrna was selected in the distinguished Design Select section at the 14th edition of the show in Pune, India, in December 2019. This was our premier launch in India, which gave our artisans an opportunity to directly interact with customers, share their stories, receive feedback on their work, and make a whole bunch of sales!
The experience exemplified what Ohrna at its core is all about—creating opportunities and empowering women!
Pune, India – Dec 2019